Sunburn Treatment Q&A
Sunburns can be painful and hard to deal with. Rocky Mount Family Medical can provide primary care treatment for severe sunburns. For more information,

please call us

or

book an appointment

online. We are conveniently located at

240 East 13th Street Merced, CA 95341

.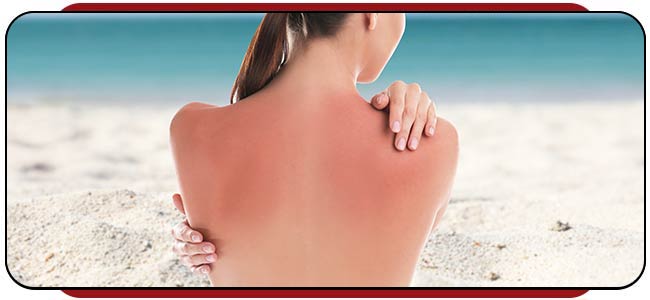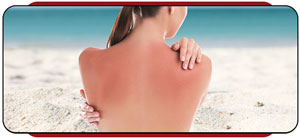 Table of Contents:
What is a sunburn exactly?
What are the degrees of sunburn?
How do you know when sunburn is serious?
Should I go to primary care for a sunburn?
What is a sunburn exactly?

Sunburns are a burn that affects the outer layers of the skin as a result of prolonged exposure to the sun. The sun's rays produce ultraviolet rays or UV rays that can harm the skin if it isn't protected by clothing, shade, or a broad-spectrum sunscreen. Anyone can be affected by the sun and get a sunburn, regardless of their age. Sunburns are often not visible on the skin until several hours after having been outside, so it is important to protect exposed skin at all times while outdoors.

The symptoms of a sunburn are pinkish-red or red skin, depending on the severity, as well as being painful and the skin feeling hot to the touch. Sunburns can be caused by both the natural sun and by the bulbs used in a tanning bed. When a person is exposed to the sun, the melanin is produced at a quicker than normal pace to build a layer of protection. This is what causes the skin to tan and why tans appear to protect the skin from getting burnt. In the case of a sunburn, the skin isn't able to produce melanin fast enough, which will cause the exposed skin to burn.
What are the degrees of sunburn?

Like burns caused by fire or chemicals, sunburns have 3 different classifications, characterized by the depth and severity of the damage caused.

• The least severe, and most common, is first-degree sunburn. In a first-degree sunburn, the outermost skin layer, the epidermis, turns red and can be hot to the touch. This sunburn will heal naturally over a few days to a week as the skin flakes off.

• The next level is second-degree sunburn affecting the epidermis, as well as the deeper layers of tissue known also as the dermis. This is where the sweat and oil glands, capillaries, hair follicles, and nerve endings can all be found. Due to the depth of the damage, this level of sunburn can take a few weeks to fully heal as it takes longer to flake off.

• The most severe is third-degree sunburn which causes the deepest damage below the skin's surface. This sunburn impacts the deeper tissues below the skin, causing healing to take several months to several years. In the most extreme cases, the affected body part may need to be removed.

At Rocky Mount Family Medical, we are familiar with sunburn treatments and can provide you with the right care at our primary care clinic for your moderate to severe sunburns.
How do you know when sunburn is serious?

Sunburns are a delayed injury as the full extent of the damage can take a day or two to fully present itself, depending on how severe the burn is. There are many treatment options available at your local drug store in the form of creams, lotions, gels, and ointments for mild to moderate sunburns to help ease the pain and itchiness. Mild sunburns, and even most moderate sunburns, don't require medical attention. Serious sunburns though penetrate deep below the skin and may require medical attention and treatment. With a mild to moderate sunburn, the immediate pain will wear off after a couple of days and be replaced by itchiness as the skin dries out and starts to flake off. 

As the burnt layers peel away, they will reveal fresh, healthy, non-sunburned skin. The new skin will often appear to be tanned or even slightly pink but this will fade over time as the outer layers of skin continue to naturally flake off. At Rocky Mount Family Medical, we can provide treatment to severe sunburns that cause the skin to blister and swell, or if there has been no improvement to the skin over several days, to ensure the sunburnt skin is healing as it should and there are no signs of infection.
Should I go to primary care for a sunburn?

At Rocky Mount Family Medical, we can provide treatment to patients who are suffering from second-and third-degree sunburns. In many cases, second-degree sunburns can be treated at home with over-the-counter sunburn treatments, however, if symptoms aren't improving after a few days, it is worth having one of our primary care doctors take a look. We will check your sunburn for any signs of infection, as well as provide treatment recommendations for managing the pain and suggestions to help minimize the damage and scarring that a severe sunburn can cause.

Sunstroke and heat stroke are caused by the same conditions that can cause sunburn, so our primary care physicians will check you for signs of either condition and let you know what to watch for at home. Treating these conditions early can help to reduce the chance of severe complications and damage to the internal organs. When your sunburn covers a large area of your body or is blistering, if you have blisters appearing on the hands, face, or genitals, or if there is severe swelling, then you should seek medical attention at primary care.

You should also seek medical attention if you have signs of an infection such as pain, pus, or red streaks associated with an open blister, if you are experiencing a fever over 103 degrees or if you are feeling confused, or dehydrated, or have experienced any fainting.

Rocky Mount Family Medical helps to treat sunburn and we encourage you to visit us or call us today. It's always wise to have a sunburn checked by a medical professional and you can always count on our team of professionals to provide high-quality primary care and facilities provided by us. Feel free to call us or book an appointment today. We are conveniently located at 240 East 13th Street Merced, CA 95341. We serve patients from Rocky Mount NC, Nashville NC, Westry NC, Dortches NC, Red Oak NC, and Sharpsburg NC.