Men's Health Care Clinic Questions and Answers
You are important, and so is your health! Maintain it and make sure you stay healthy and live longer by booking regular appointments with our Men's Health specialists here at Rocky Mount Family Medical! For more information,

call us

or schedule an

appointment online

! We are conveniently located at

804 English Road, Suite 100 Rocky Mount, NC 27804

.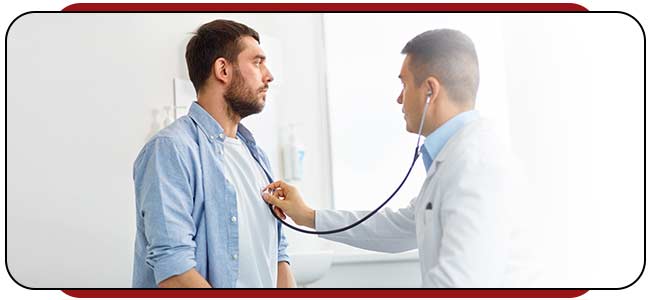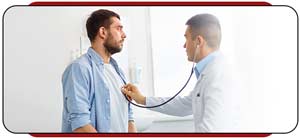 Table of Contents:
What men's health care does Rocky Mount Family Medical provide?
Why is men's health important?
What are some men's health issues?
When should a man see a healthcare provider?
What men's health care does Rocky Mount Family Medical provide?

As you age, a man's health concerns are likely to change. By taking a pro-active and preventative approach to men's health, any man can take charge of his health to stay fit, healthy and feel great regardless of age. 

The services for men's health care that Rocky Mount Family Medical offers includes:

• Annual Wellness Exam
• Bone Mineral Density Test
• Blood Glucose Test
• Eye Tests
• Hearing Test
• Blood Pressure
• Cholesterol
• Abdominal Aortic Aneurysm
• Immunizations
• Mental & Emotional Health
• Prostate Health
• HIV Tests
• Erectile Dysfunction
• Cancer Screenings
Why is men's health important?

Prevention and early detection, men's health often takes a back seat to others. Men are more likely to smoke, drink alcohol and generally lead a less healthy lifestyle than women, and in addition to that, men are also more likely to put off routine checkups with their doctors and delay seeing a doctor for any symptoms of a health problem. 

Thankfully, many of the health conditions and diseases that men continuously face can be prevented and treated if found in the early stages. It is important for men to understand the risk factors and how they can improve with their overall health. The most common conditions that can affect men are heart disease, prostate, testicular and colon cancer, as well as osteoporosis later on in life. 
What are some men's health issues?

If you take care of your health, you leave little to no issues to worry about as often than if you don't look after your health. Lack of awareness, weak health education and unhealthy work and personal lifestyles can contribute to a steady deterioration of the well-being of men.

Heart health can lead to serious and fatal complications if it goes undetected. High blood pressure is common in men under the age of 45, and routine checkups can help keep that heart beating. 

Your doctor will then calculate your risk for cardiovascular disease based on several risk factors including cholesterol, blood pressure, and smoking habits. 

As well COPD and other respiratory diseases can lead to life-threatening conditions, such as lung cancer, emphysema, or COPD. All of these conditions can easily interfere with your ability to breathe. Alcohol consumption increases your risk of cancer in the mouth, throat, esophagus, liver, and colon. 

Depression and suicide are another top factor that many men suffer from. Some ways to combat depression may include:

• Getting regular exercise
• Journaling or writing down your thoughts
• Communications openly with loved ones
• Seeking professional help

Other important men's health issues to be aware of include:

• Unintentional injuries and accidents
• Liver disease
• Diabetes
• Influenza and pneumonia
• Skin cancer

With this information, becoming proactive about your health is the biggest next step to prevent any negative health issues. While addressing your health can be scary, avoiding it all together can become deadly. Contact our clinic Rocky Mount Family Medical today to book your appointment with one of our medical physicians.
When should a man see a healthcare provider?

Men should regularly visit their healthcare provider like ours at Rocky Mount Family Medical, even if you do feel healthy. The main purpose of these regular visits is to:

• Screen for medical problems
• Assess your risk for present and future medical problems
• Encourage a healthy lifestyle
• Update your immunizations
• Offer help with injury and illness

There are many specific times a man should go see their healthcare provider. Screening guidelines for men ages 18 to 39 include screening for:

• Blood pressure screening
• Cholesterol screening and heart disease prevention
• Diabetes screening
• Dental exam
• Eye exam
• Immunizations
• Infectious diseases screening
• Physical exam
• Testicular exam
• Skin exam
• Other screenings

Rocky Mount Family Medical Center has a team of specialists who specialize in men's health care. For more information, call us or schedule an appointment online! We are conveniently located at 804 English Road, Suite 100 Rocky Mount, NC 27804. We serve patients from Rocky Mount NC, Nashville NC, Westry NC, Dortches NC, Red Oak NC, and Sharpsburg NC.