Sunburn Treatment Specialist in Rocky Mount, NC
Sunburns occur in varying degrees of severity, while some can be managed at home more serious burns pose serious health risks. If you need sunburn treatment, then you have come to the right place! Book your next appointment right away! Sunburn treatment is available at Rocky Mount Family Medical Center. For more information please contact us or book an

appointment online

. We are conveniently located at 804 English Rd, Suite 100 Rocky Mount, NC 27804.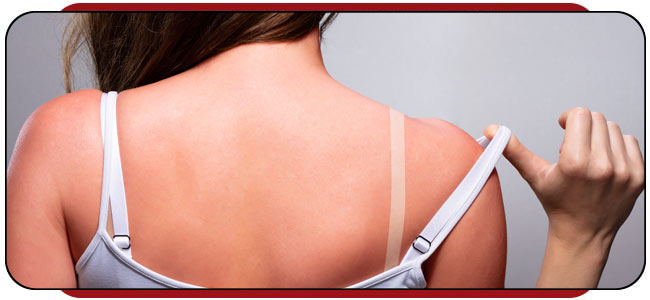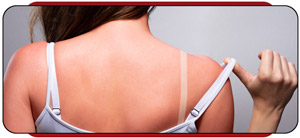 Table of Contents:
How do you heal sunburn fast?
How serious is a sunburn?
How long do sunburns last?
Do sunburns turn into a tan?
How do you heal sunburn fast?

Excessive exposure to the sun without proper protection can lead to sunburn, causing the skin to burn and sting. To expedite the healing process and alleviate the discomfort, it is crucial to initiate treatment as soon as you detect sunburn. The initial step is to immediately seek shade and preferably move indoors.
 
To alleviate the pain, take frequent cool baths or showers. Afterward, gently pat yourself dry, leaving a thin layer of water on the skin. Proceed by applying a moisturizer to help retain the moisture in the skin, effectively reducing dryness.
 
Opt for a moisturizer that contains aloe vera or soy to soothe the sunburned skin. If a specific area feels particularly uncomfortable, consider using an over-the-counter hydrocortisone cream. In case of swelling, redness, or discomfort, taking aspirin or ibuprofen can help reduce these symptoms.
 
Ensure you stay hydrated by drinking extra water, sunburns draw fluid to the skin's surface, leading to dehydration, and consuming additional water while sunburned can help prevent this. If blisters appear on the skin, allow them to heal naturally. Blisters indicate a second-degree sunburn and puncturing them may hinder the healing process and increase the risk of infection.
 
Take extra precautions to protect the sunburned skin during the healing period, when outdoors, wear clothing that adequately covers the affected areas. Opt for tightly-woven fabrics that prevent light from passing through when held up to a bright light source.
How serious is a sunburn?

A sunburn is a type of radiation burn that affects the skin. Its symptoms can manifest in as little as 11 minutes, with the skin turning red within 2 to 6 hours after exposure. Over the next 24 to 72 hours, the sunburn can intensify, and depending on its severity, it may take days or even weeks to fully heal.
 
Exposure to further ultraviolet (UV) rays will exacerbate sunburn. While mild cases of sunburn can be managed at home, it is crucial to seek prompt medical attention for severe sunburn that leads to blistering.
 
Repeated instances of sunburn can have long-term consequences, such as premature wrinkling and an increased risk of skin cancer, including the most dangerous type known as melanoma.
 
The DNA within cells may be damaged, and if the body fails to repair this damage repeatedly over time, it can result in the development of abnormal cells and potentially lead to cancer. This emphasizes the significance of preventive measures against sunburn.
How long do sunburns last?

The duration of sunburns can vary depending on their severity. In the case of a mild sunburn, redness typically becomes noticeable within two to six hours after sun exposure. The redness will gradually fade over approximately two days. However, the duration increases as the sunburn becomes more severe.
 
For a moderate sunburn, where the skin exhibits swelling and feels hot to the touch, complete healing can take up to a week. In instances of a severe sunburn, characterized by intensely hot and red skin followed by the formation of blisters, the healing process may extend up to two weeks.
Do sunburns turn into a tan?

Following the healing process, the affected area may appear more tan than usual. However, tanning is essentially another manifestation of skin damage caused by exposure to ultraviolet radiation. The likelihood of developing a tan primarily depends on your skin type.
 
In an effort to shield the skin from additional harm, your body stimulates the production of melanin, the pigment responsible for the coloration of your skin, hair, and eyes. If your skin possesses the capability to tan, the melanin will undergo darkening within approximately 48 hours of sun exposure.
 
Sunburn treatment is available at Rocky Mount Family Medical Center. For more information please contact us or book an appointment online. We are conveniently located at 804 English Rd, Suite 100 Rocky Mount, NC 27804. We serve patients from Rocky Mount NC, Nashville NC, Westry NC, Dortches NC, Red Oak NC, and Sharpsburg NC.