DOT Physical Exams in Rocky Mount, NC
Come to Rocky Mount Family Medical Center for your next DOT physical exams. Our physicians are trained to help you get the results you are looking for with ease.

Contact us

or schedule an

appointment online

for your Dot physical exam! We are conveniently located at

804 English Road, Suite 100 Rocky Mount, NC 27804

.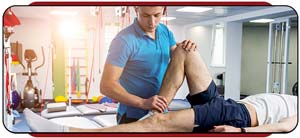 Table of Contents:
What does a DOT physical consist of?
What is included in a DOT physical?
How often am I supposed to get a DOT physical?
DOT physicals are required when trying to obtain a commercial driver's license. Their purpose is to determine your physical health and overall ability to safely operate a commercial vehicle. At Rocky Mount Family Medical Center, our doctors are trained professionals that can help you get the results you need from your next DOT physical exam. With our comprehensive DOT exams, we'll have you feeling at ease.
What does a DOT physical consist of?

In order to comply with federal law, a qualified doctor, physician's assistant, or nurse practitioner must complete your DOT physical. These providers can be easily found when you book an appointment at Rocky Mount Family Medical Center.

A typical DOT physical begins by having your doctor review your medical history and ask you to list the medications you take on a regular basis. During your physical, your examiner should also:

• Check your blood pressure and heart rate
• Check your vision by performing a standard eye exam
• Examine your ears and your ability to perceive sound from at least 5 feet away
• Check for spine deformities
• Ensure there are no breathing or swallowing problems in the mouth and throat
• Perform a neurological exam to make sure your coordination and reflexes are not impaired
• Listen to your heart and lungs for murmurs and impaired respiratory functions
• Press on your abdomen to check for abnormalities
• Perform a hernia check
• Conduct urinalysis for indications of underlying medical conditions
What is included in a DOT physical?

When attending a DOT physical exam, a commercial driver will need to bring a completed list of medications, including the dosage and their doctors' names and addresses. In an effort to save time, we also recommend that drivers fill out a health history questionnaire before coming to the clinic.

To ensure that the exam runs smoothly, drivers with medical issues need to bring the appropriate documents or items associated with those illnesses. For example:

• Drivers afflicted with vision or hearing problems should bring their eyeglasses, contacts, hearing aids, or any other enhancement item.
• Drivers that are afflicted with diabetes must bring the most recent lab results. This lab report must include their hemoglobin and their blood sugar logs.
• Drivers with heart-related issues/diseases must, at the very least, bring a letter from their current cardiologist. This letter must outline their medical history and current medications. The letter must also clearly state that it is safe for them to work.

At a DOT physical, doctors will often check the following:

• Vision
• Hearing
• Blood pressure/pulse rate
• Urinalysis
• Physical Examination

A lot is covered in the DOT physical exam and of course, not everyone can pass on their first try. There are many reasons a driver may fail the DOT exam. Some of these things are within your control and others are not. There are a few reasons you could be considered unqualified to drive including:

• High blood pressure
• Epilepsy
• Alcoholism or drug use
• Missing extremities
• Cardiovascular or respiratory disease
• Diabetes
• Poor eyesight or hearing
• A nervous or psychiatric disease
How often am I supposed to get a DOT physical?

Commercial drivers are required to take the DOT physical exam every two years. If you have a pre-existing condition that needs monitoring, such as high blood pressure, diabetes, or heart disease, you may be required to get a physical more often. Once you have passed your DOT physical one of our doctors will give you a certificate. This certificate must be carried with you in the commercial vehicle at all times. If you or someone you know needs a DOT physical exam, come to Rocky Mount Family Medical Center. We will help you determine whether or not you are a good fit to drive a commercial vehicle. Our doctors are experienced, and professional, and will help you feel comfortable enough to ask the questions you need to ask. For more information, call us or schedule an appointment online! We are conveniently located at 804 English Road, Suite 100 Rocky Mount, NC 27804. We serve patients from Rocky Mount NC, Nashville NC, Westry NC, Dortches NC, Red Oak NC, and Sharpsburg NC.